Original Post found here on SimplyBookMe Blog
In a digital landscape saturated with information, attaining a first-page listing on Google for general terms is almost impossible, without a lot of money and technical marketing expertise. The goal now is to achieve the top spot for your local area. Welcome, Google My Business to the stage.
Catch them as they Google My Business
Moving to a new town, needing immediate service, or wanting a change all lead to one thing; seeking a new service provider. What do you do when you want to find a new service business? Like almost everyone else (and I include your customers in this generalisation) you probably turn to Google. When you type your search definition into the search bar, the autofill feature in Google will suggest "near me" as a modifier.
Go on, try it. Google "hair salons near me." The first listing on page one is a map and a list of the top three or four salons in your area (depending on whether you're using a pc or mobile device). You can extend this list by clicking the "more places" link. You get similar search results even if you enter a place name rather than "near me."
Because this result shows on top of the first page, this is a great way to show up on top in searches, without having to spend time and money on SEO.

For example; I live in Cyprus, but I have to attend a wedding in the UK next year. I need to find a hairstylist and make-up artist in my home town, preferably near where I'll be staying. Taking the example further, I want to book in plenty of time to ensure they can fit me for "The Works" on the morning of the wedding. I need to book an appointment from Cyprus, without worrying about the time difference and whether they will answer the phone.
How does Google My Business Work?
As you've already seen, the first results for a location-specific search appear as a group, linked to a handy location map.
To appear on that list, you need to complete your business profile on the Google Business page. The more complete and comprehensive your profile, the more likely it is that people will contact you. The more information you include on your Google Business profile, the easier it is for potential clients to find you. It's also a chance to tell them more about your business.
Fun Fact: Businesses that add photos to their listings receive 42% more requests for driving directions on Google Maps and 35% more clicks through to their websites than businesses that don't.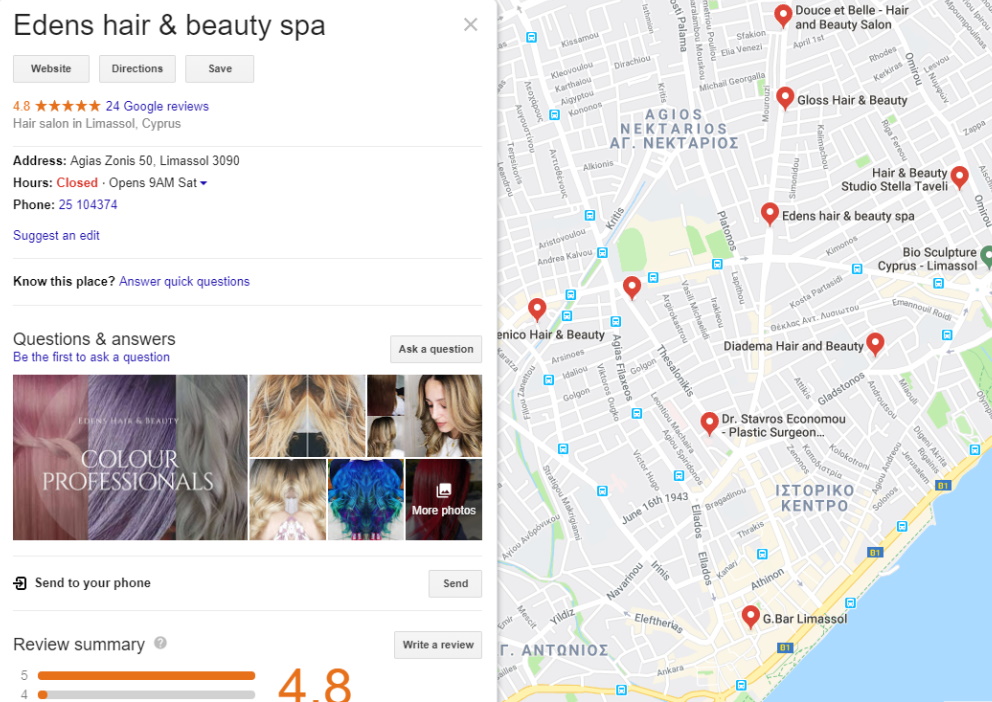 Aside from the usual information like opening hours, address and website, you can add more. Listing your services and products, adding photos, and asking your customers to add pictures with a review, are all engaging methods of making your Google listing standout.
Do I need a Google My Business Page?
Yes, but only if you want to increase your online visibility, your customer base, and your local reach.
It's common knowledge that people who search Google rarely stray from the first page of results. However, when the first result is a convenient list of all the local entities, it's unlikely that they'll bother looking past the first result. Competition with other local businesses means that if they are listed and you aren't, your competitors will get the booking, The client will never even know you exist.
Gaining website traffic by organic search alone is an expensive and time-consuming prospect. Having a Google Business listing takes away that time and money drain.
There are other benefits, you can interact with your customers and respond to questions, and with the handy linkage to Google Maps clients can even get directions.
SimplyBook.me Integrates with Google My Business.
Let's just make this whole process even easier for you and your customers. Over 80% of people find new products and services online, and a large proportion of them will book your service online if it's available. SimplyBook.me has created an integration plugin to make Google My Business profile listing simple.
If you use SimplyBook.me as your booking system, all you need to do is add your business locations and verify the information that you'd want to display on your Google Business listing.
Information such as the company name, business hours, booking site URL and contact details will transfer automatically from the SimplyBook.me system.
Google Business Verification
Appropriately, Google is very protective of its features and the veracity of its suggestions. Asa consequence, Google will show preference to businesses who have verified their operating address. The verification process differs from country to country and varies according to business type. Some verification methods are mail, email or phone.
So, check out the rules for your location, and get verified by Google.
Some final tips for your Google My Business listing
Go to your admin account and click Google My Business
Make sure to verify your business information
Complete your profile
Add photo's and ask happy customers to add them too
Ask satisfied clients to add reviews